Kids Punch Bag Punch Points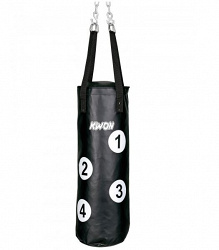 Article: AVKW1008
Level: 3
Perfect for series punching training. For children and teenagers. Filled.
Colour: Black/White
Dimensions: Approx. 70 x 25 cm
Made of sturdy artificial leather. Filling with extra small cut cotton pieces for good impact absorption. Nevertheless we recommend to always use gloves when using this item to reduce the risk of injuries. With belt straps for hang up. Made in: EU
Another sports equipment from category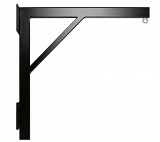 Training bag support extra strong
Article: AVKW1016
Level: 3
Wall bracket made of heavy—duty square—section pipe. Secured to wall with dowel hooks.
With rigid mounting.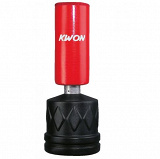 Water Bag
Article: AVKW1020
Level: 3
Free standing Punch bag in extremely high quality, attractive design and easy to handle.
Colour: Red/Black
Unfilled weight:
[18 kg. water—filled:] 150 kg. sand—filled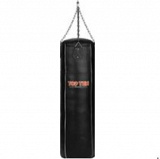 Leather heavy bag 150
Article: AVTT1015
Level: 3
Material: Thick genuine leather
Special pressed mixture
Dimensions: ? 33 cm
Height: 150cm
Colour: Black
Weight: 50 kg