Training Bag Standard 180 cm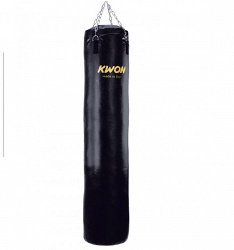 Article:

AVKW1004

Made in: EU

Material: Vinyl, foam insert.

All training bags are supplied with a stainless-steel, chrome-plated chain for hanging and Punching Bag Joint.

Colour: Black

Weight: Approx. 50 kg.

Dimensions: Approx. 180 cm long, 35 cm dia.
Another sports equipment from category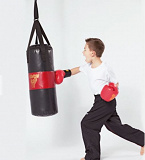 Kids Boxing Bag Cobra
Article: AVKW1005
Made in: EU
Suitable for ages 6 — 10 years. With a cool Cobra printed motive on the center of the striking area.
Colour Black/Red/Gold
Weight (filled): Approx. 7 kg
Dimensions: Approx. 55 x 25cm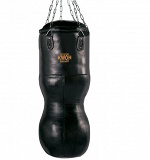 Leather Punching Bag Hook 120 cm
Article: AVKW1010
Made in: EU
For boxing training of medium and heavy weight boxers.
Colour: Black
Outer material: 100% genuine leather
Weight: Approx 50 kg
Dimensions: Approx. 120 cm long
Diameter: 50 cm.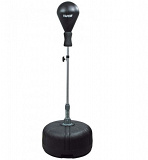 Water Punchball – adjustable
Article: AVKW1019
Made in: EU
The Punching Bag on Stand is a sturdy training tool to improve speed, timing, coordination and impact technique and is perfect for all Martial Arts styles, especially for boxing or kickboxing.
Colour: Black
Total height: 150 cm
Height: Adjustable 60 — 120 cm
Base: Approx. 22 cm
Punch: About 27 cm
Weight: Filled approx. 31.5 kg / unfilled approx. 4.5 kg
Capacity container: 20 ltr. (0,02cbm)