Master trampoline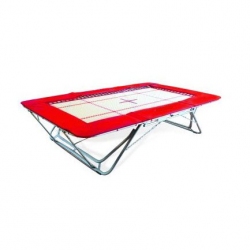 Article:

AVGY1203

Material: steel frame, PVC cover, JERSEY cover, Foam

Dimensions:

Frame dim.: 457 x 275 cm

Height: 100 cm.

Color: beige/red/gray.

100 springs made of high-grade steel.
3 cm thick protection pads included.
13 x 13 mm nylon mesh bed with border (366 x 183 cm). A training trampoline featuring a folding frame, ovoid reinforced electro-galvanized steel section equipped with trolleys.
Another sports equipment from category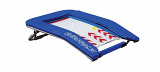 Booster board "Advanced"
Article: AVSP1006
Made in EU.
The "Advanced" booster board combines functionality of a classic springboard with the dynamics, light weight and vaulting of a trampoline.
Size and weight
LxW: 135x100 cm
Approx. 33 kg
Recommended user weight: Up to 60 kg
Height adjustable from 26.5 to 32 cm
[Max. load:] Up to approx. 90 kg
[With trampoline bed, size (LxW):] 93x57 cm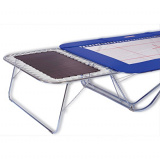 "Universal" Additional Frame
Article: AVSP1010
Compliance whith: FIG
Made in EU.
The additional frames with support mat the optimal level of of safety for training and competition.
The ideal addition to all Ultimate, Grand Master and Premium trampolines
Dimensions and weight
[Dimensions when assembled (LxWxH):] 265x185x115 cm (1 frame)
[Dimensions when stored (LxWxH):] 265x185x7 cm (1 frame)
Approx. 90 kg (1 pair)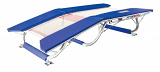 Double Minitramp "Ultimate DMT 6x6" - FIG Certificated
Article: AVSP1009
Made in EU.
Compliance whith: FIG
Innovative 6x6—mm high—performance trampoline bed for a higher rebound.
Optimised immersion depth in the centre of the trampoline bed for more safety.
New frame covering – efficient, safe, long lasting with newly padded exit zone.
Dimensions and weight
Trampoline: 194x25x190 cm
Rolling stands (2 items), 70x21x118 cm (8.6 kg)
[Dimensions when stored on rolling stands (LxWxH):] 215x70x197 cm
Approx. 140 kg