Master trampoline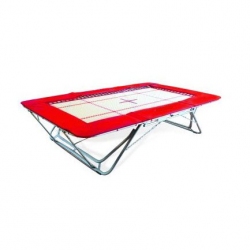 Article:

AVGY1203

Material: steel frame, PVC cover, JERSEY cover, Foam

Dimensions:

Frame dim.: 457 x 275 cm

Height: 100 cm.

Color: beige/red/gray.

100 springs made of high-grade steel.
3 cm thick protection pads included.
13 x 13 mm nylon mesh bed with border (366 x 183 cm). A training trampoline featuring a folding frame, ovoid reinforced electro-galvanized steel section equipped with trolleys.
Another sports equipment from category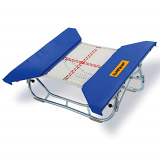 Minitramp "Standard" open-end
Article: AVSP1007
Made in EU.
The "Standard" open—end minitramp with open frame construction, is ideally suited to use in schools or leisure.
Size and weight
[Frame outer dimensions (LxW):] 120x120 cm.
[Dimensions when folded and stored (LxWxH:] ) 140x125x12 cm.
Required room height: Approx. 4.5 to 5 m.
Weight: 38.5 kg.
Can hold up to 90 kg.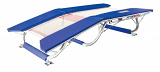 Double Minitramp "Ultimate DMT 6x6" - FIG Certificated
Article: AVSP1009
Made in EU.
Compliance whith: FIG
Innovative 6x6—mm high—performance trampoline bed for a higher rebound.
Optimised immersion depth in the centre of the trampoline bed for more safety.
New frame covering – efficient, safe, long lasting with newly padded exit zone.
Dimensions and weight
Trampoline: 194x25x190 cm
Rolling stands (2 items), 70x21x118 cm (8.6 kg)
[Dimensions when stored on rolling stands (LxWxH):] 215x70x197 cm
Approx. 140 kg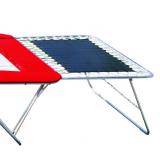 Large safety end decks for large competition trampolines - FIG approved
Article:AVGY1198
Material: steel frame, jersey
Color: Gray
Dimensions:
180 x 260 cm (LxW).
Compliance with: FIG
Mats not included.