Master trampoline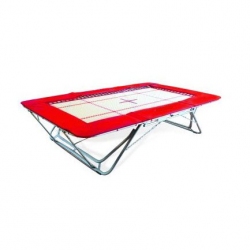 Article:

AVGY1203

Material: steel frame, PVC cover, JERSEY cover, Foam

Dimensions:

Frame dim.: 457 x 275 cm

Height: 100 cm.

Color: beige/red/gray.

100 springs made of high-grade steel.
3 cm thick protection pads included.
13 x 13 mm nylon mesh bed with border (366 x 183 cm). A training trampoline featuring a folding frame, ovoid reinforced electro-galvanized steel section equipped with trolleys.
Another sports equipment from category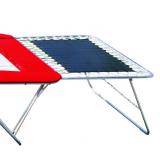 Large safety end decks for large competition trampolines - FIG approved
Article:AVGY1198
Material: steel frame, jersey
Color: Gray
Dimensions:
180 x 260 cm (LxW).
Compliance with: FIG
Mats not included.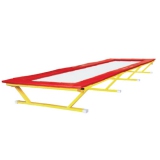 Acrotramp - Long Trampoline
Article:AVGY1210
Material: steel frame, PVC cover, JERSEY cover, Foam
Dimensions:
Bed height: 53 cm.
Bed width: 1.50 m.
Overall height (with guards): 60 cm.
Width: 2.20 m.
Length: 6.70 m.
Color: beige/red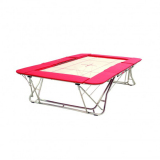 Large competition trampoline - 13 x13 mm bed - FIG approved
Article:AVGY1195
Material: steel frame, PVC cover, JERSEY cover, foam
Color: Beige/red
Dimensions:
Unfolded: 520 x 305 x 115 cm (LxWxH).
Folded: 345 x 83 x 220 cm (LxWxH).
Weight: 245 kg.
Compliance with: FIG