Large competition trampoline - 5x4 mm bed - FIG approved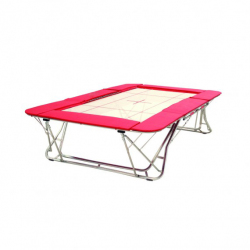 Article:

AVGY1196

Material: steel frame, PVC cover, JERSEY cover, foam

Color: Beige/red

Dimensions:

Unfolded: 520 x 305 x 115 cm (LxWxH).

Folded: 345 x 83 x 220 cm (LxWxH).

Weight: 245 kg.

Compliance with: FIG

Sold without end decks and safety mats.
- 5 x 4 mm bed.
- Reinforced "electro galvanized" steel frame, section profile "egg shaped" (65 x 36 mm).
- 428 x 214 cm bed attached to the frame with 110 tempered steel cylindrical springs + 8 reinforced corner springs.
- Spring padding included, 3 cm thick.
- Pair of movable lifting roller stands.
- Micrometric adjustment of bed flatness with metal tensioners.
Another sports equipment from category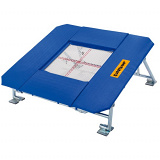 Minitramp "Teamgym Premium"
Article: AVSP1005
Made in EU.
The "Teamgym Premium" minitramp is perfect for all gymnasts looking for a trampoline with excellent stability, sturdiness and extraordinary rebound. The frame is made from electrogalvanised special steel and features shock—absorbing padding. The feet have large, movable surfaces and four rubber plates protect the floor. The feet are adjustable both in height and angle, from 23.7 to 28.5 cm (14° to 27°).
Dimensions and weight
[Frame outer dimensions (LxW):] 125x130 cm
[Dimensions when folded and stored (LxWxH:] ) 140x125x15 cm
[Trampoline bed dimensions (LxW):] 60x60 cm
Weight: 58 kg
Can hold up to 90 kg

Trampoline "Ultimate 4x4"
Article: AVSP1002
Compliance whith: FIG
Made in EU.
The trampoline "Ultimate 4x4" has an extremely stable base construction. Using the "Easy Lock" system, the competition trampoline can be quickly set up by just one person. Special ultimate springs ensure optimal dynamics and durability.
Versions
With 1 pair of rolling stand
With 1 pair of rolling stands with lift
With 1 pair of "Safe & Comfort" rolling stand with lift
Available with 3 different options for all—round frame padding
32—mm frame padding, foldable
50—mm frame padding, foldable
50—mm frame padding, will not fold
Dimensions and weight
[Frame outer dimensions (LxWxH):] 520x305x115 cm
Weight: 260 kg
Dimensions when stored
[On rolling stand with lift (LxWxH):] Approx. 334x80x220 cm or 197 cm when lowered
[On rolling stand (LxWxH):] Approx. 321x80x220 cm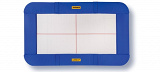 Complete All-Round Frame Padding for the "Grand Master and "Master" trampolines
Article: AVSP1012
Made in EU.
Product details
Made of shock absorbing material
With washable surface
Fixed to frame with hook—and—loop fasteners
Versions
For the "Master" trampoline
For the "Grand Master" trampoline