Large safety end decks for large competition trampolines - FIG approved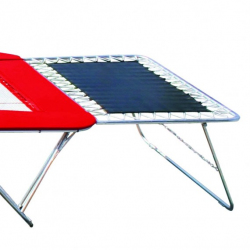 Article:

AVGY1198

Material: steel frame, jersey

Color: Gray

Dimensions:

180 x 260 cm (LxW).

Compliance with: FIG

Mats not included.

Set of 2 large safety end decks.
Mats not included.
The end decks are positioned at the same height as the trampoline frame (cannot be folded with frame).
Another sports equipment from category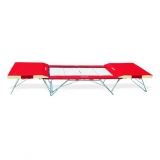 Complete large competition trampoline - 5 x 4 mm bed - with end desks and mat - FIG approved
Article:AVGY1190
Material: steel frame, PVC cover, JERSEY cover, foam
Color: Beige/red
Dimensions:
Unfolded: 520 x 305 x 115 cm (LxWxH).
Folded: 345 x 83 x 220 cm (LxWxH).
Weight: 245 kg.
Compliance with: FIG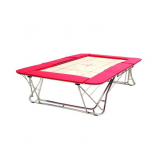 Large competition trampoline - 6x4 mm bed - FIG approved
Article:AVGY1194
Material: steel frame, PVC cover, JERSEY cover, foam
Color: Beige/red
Dimensions:
Unfolded: 520 x 305 x 115 cm (LxWxH).
Folded: 345 x 83 x 220 cm (LxWxH).
Weight: 245 kg.
Compliance with: FIG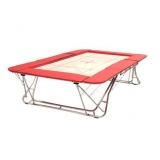 Large competition trampoline - 6x6 mm bed - FIG approved
Article:AVGY1193
Material: steel frame, PVC cover, JERSEY cover, foam
Color: Beige/red
Dimensions:
Unfolded: 520 x 305 x 115 cm (LxWxH).
Folded: 345 x 83 x 220 cm (LxWxH).
Weight: 245 kg.
Compliance with: FIG