Complete large competition trampoline - 4 x 4 mm bed - with end desks and mat - FIG approved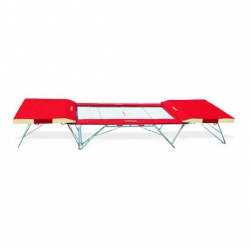 Article:

AVGY1191

Material: steel frame, PVC cover, JERSEY cover, foam

Color: Beige/red

Dimensions:

Unfolded: 520 x 305 x 115 cm (LxWxH).

Folded: 345 x 83 x 220 cm (LxWxH).

Weight: 245 kg.

Compliance with: FIG

Supplied with movable safety end decks (2 decks + 2 safety mats 300 x 240 x 20 cm). End deck is not foldable with the frame.
- 4 x 4 mm bed.
- Reinforced "electro galvanized" steel frame, section profile "egg shaped" (65 x 36 mm).
- 428 x 214 cm bed attached to the frame with 110 tempered steel cylindrical springs + 8 reinforced corner springs.
- Spring padding included, 3 cm thick.
- Pair of movable lifting roller stands.
- Micrometric adjustment of bed flatness with metal tensioners.
Another sports equipment from category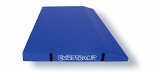 Cover Mat "Competition"
Article: AVSP1011
Made in EU.
When used with the extra frame, this cover mat offers the best safety standards for training and in competition.
Set consists of
2 cover mats
2 wedges
Characteristics
[Mat (LxWxH):] Approx. 300x200x20 cm
[Wedge (LxWxH):] Approx. 300x40x20 cm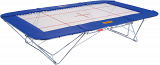 Trampoline "Grand Master Super Special"
Article: AVSP1004
Made in EU.
Best suited to club sports, school sports and therapy use.
Trampoline bed made from 13—mm—wide nylon strands
Frame entirely covered by shock—absorbing padding.
Versions
With 1 pair of rolling stands
With 1 pair of rolling stands with lift
With 1 pair of Safe & Comfort rolling stands with lift
Dimensions and weight
Frame outer dimensions (LxW) 520x305 cm.
Weight: 220 kg.
Dimensions when stored
On rolling stands with lift (LxWxH) 334x80x220 cm or 197 cm when lowered.
On rolling stands (LxWxH) 321x80x220 cm.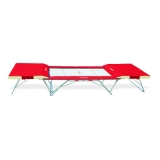 Complete large competition trampoline - 4 x 4 mm bed - with end desks and mat - FIG approved
Article:AVGY1191
Material: steel frame, PVC cover, JERSEY cover, foam
Color: Beige/red
Dimensions:
Unfolded: 520 x 305 x 115 cm (LxWxH).
Folded: 345 x 83 x 220 cm (LxWxH).
Weight: 245 kg.
Compliance with: FIG