Large competition trampoline - 13 x13 mm bed - FIG approved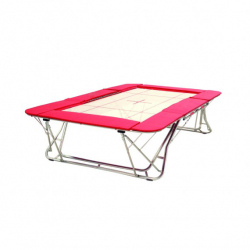 Article: AVGY1195
Material: steel frame, PVC cover, JERSEY cover, foam
Color: Beige/red
Dimensions:
Unfolded: 520 x 305 x 115 cm (LxWxH).
Folded: 345 x 83 x 220 cm (LxWxH).
Weight: 245 kg.
Compliance with: FIG
Sold without end decks and safety mats.
- 13 x 13 mm bed.
- Reinforced "electro galvanized" steel frame, section profile "egg shaped" (65 x 36 mm).
- 428 x 214 cm bed attached to the frame with 110 tempered steel cylindrical springs + 8 reinforced corner springs.
- Spring padding included, 3 cm thick.
- Pair of movable lifting roller stands.
- Micrometric adjustment of bed flatness with metal tensioners.
Another sports equipment from category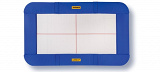 Complete All-Round Frame Padding for the "Grand Master and "Master" trampolines
Article: AVSP1012
Made in EU.
Product details
Made of shock absorbing material
With washable surface
Fixed to frame with hook—and—loop fasteners
Versions
For the "Master" trampoline
For the "Grand Master" trampoline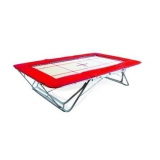 Master trampoline
Article: AVGY1203
Material: steel frame, PVC cover, JERSEY cover, Foam
Dimensions:
Frame dim.: 457 x 275 cm
Height: 100 cm.
Color: beige/red/gray.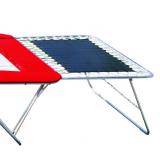 Large safety end decks for large competition trampolines - FIG approved
Article: AVGY1198
Material: steel frame, jersey
Color: Gray
Dimensions:
180 x 260 cm (LxW).
Compliance with: FIG
Mats not included.