Large competition trampoline - 6x6 mm bed - FIG approved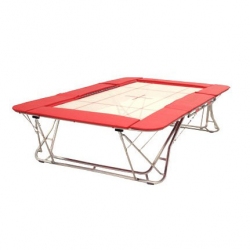 Article:

AVGY1193

Material: steel frame, PVC cover, JERSEY cover, foam

Color: Beige/red

Dimensions:

Unfolded: 520 x 305 x 115 cm (LxWxH).

Folded: 345 x 83 x 220 cm (LxWxH).

Weight: 245 kg.

Compliance with: FIG

Sold without end decks and safety mats.
- 6 x 6 mm bed.
- Reinforced "electro galvanized" steel frame, section profile "egg shaped" (65 x 36 mm).
- 428 x 214 cm bed attached to the frame with 110 tempered steel cylindrical springs + 8 reinforced corner springs.
- Spring padding included, 3 cm thick.
- Pair of movable lifting roller stands.
- Micrometric adjustment of bed flatness with metal tensioners.
Another sports equipment from category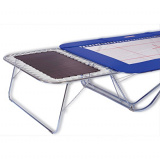 "Universal" Additional Frame
Article: AVSP1010
Compliance whith: FIG
Made in EU.
The additional frames with support mat the optimal level of of safety for training and competition.
The ideal addition to all Ultimate, Grand Master and Premium trampolines
Dimensions and weight
[Dimensions when assembled (LxWxH):] 265x185x115 cm (1 frame)
[Dimensions when stored (LxWxH):] 265x185x7 cm (1 frame)
Approx. 90 kg (1 pair)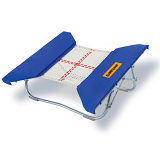 Minitramp "School" open-end
Article: AVSP1008
Made in EU.
The "School" open—end minitramp with open frame construction, is ideally suited to use in schools or leisure.
Size and weight
[Frame outer dimensions (LxW):] 120x120 cm.
[Dimensions when folded and stored (LxWxH:] ) 140x125x12 cm.
Required room height: Approx. 4.5 to 5 m.
Weight: 38.5 kg.
Can hold up to 90 kg.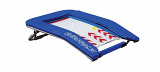 Booster board "Advanced"
Article: AVSP1006
Made in EU.
The "Advanced" booster board combines functionality of a classic springboard with the dynamics, light weight and vaulting of a trampoline.
Size and weight
LxW: 135x100 cm
Approx. 33 kg
Recommended user weight: Up to 60 kg
Height adjustable from 26.5 to 32 cm
[Max. load:] Up to approx. 90 kg
[With trampoline bed, size (LxW):] 93x57 cm