Competition high bar. Standart cable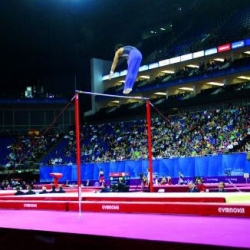 Article: AVGY1081
Material: Metal / wood
Color: beige/red
Dimensions:
Floor space: 5.50 x 4 m
Height: 2.70 — 2.95 m
Compliance with: FIG
This model features solid steel machined rotating heads. The two rotation axis are mechanically designed to give a perfectly jolt free "gimbal" effect. The uprights for this bar are 70 mm in diameter, easy assembly and dismantling via rapid tensioners. Non-slip feet, coated cables.
Another sports equipment from category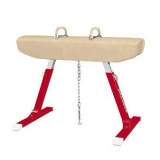 Competition pommel horse. Leatherette
Article:AVGY1094
Material: Leather—covered, Foam, Metal
Color: beige/red
Dimensions:
— Body height adjusts between 0.90 and 1.40 m with engraved increments.
— Width instantly adjustable using thumb wheels from 41 to 50 cm.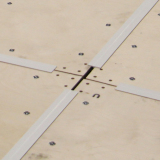 Sprung floor only for training exercise floor (13,05x13,05m) - 12.50x12.50m
Article:AVGY1006
Material: Wood Floor
Color: Wood
Dimensions: 12.50 x 12.50 m, Thickness : 10 cm.
Made in: EU.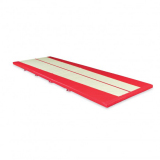 Additional landing mat for competition vaulting
Article:AVGY1144
Material: PVC cover, Foam
Color: beige/red
Dimensions:
600 x 200 x 10 cm (LxWxTh).
Authorized area: 600 x 95/150 cm (LxW).
Compliance with: FIG