Carpet only for competition exercise floor - 14x14 m - FIG approved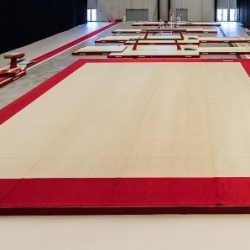 Article:

AVGY1003

Material: carpet

Color: beige/red

Dimensions: 14 x 14 m.

Compliance with: FIG

Made in: EU.

Made up of several widths joined together by hook-and-loop strips underneath the carpet for a completely flat and consistent working surface.
Integral edging in a different color.
Perimeter of the carpet finished with whip stitching.
- 12 x 12 m performance area marked out.
- Supplied with anti-rotation mechanism.
Another sports equipment from category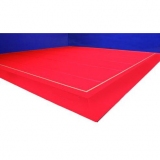 Exercise floor "roll-up tracks"
Article:AVGY1007
Material: Comprises sprungfloor thick roll—up foam/'flame pattern' carpet sections
Color: red
Dimensions: 14 x 14 m, Thickness : 14 cm (10 cm floor + 4 cm track).
Made in: EU.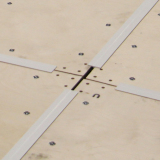 Sprung floor only for training exercise floor (13,05x13,05m) - 12.50x12.50m
Article:AVGY1006
Material: Wood Floor
Color: Wood
Dimensions: 12.50 x 12.50 m, Thickness : 10 cm.
Made in: EU.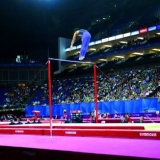 Competition high bar. Standart cable - FIG approved
Article:AVGY1081
Material: Metal / wood
Color: beige/red
Dimensions:
Floor space: 5.50 x 4 m
Height: 2.70 — 2.95 m
Compliance with: FIG