Competition ring frame. Adjustable elacity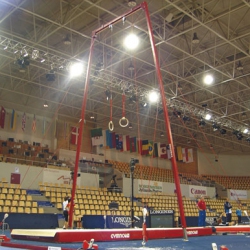 Article: AVGY1098
Material: Wood / Metal
Color: beige/red
Dimensions:
Height: 6.05 m.
Compliance with: FIG
Ring frame with adjustable elasticity (from "normal" to "very flexible"), adapts to a gymnasts weight and style. Its high impact absorbency means that exercises can be practised repeatedly reducing fatigue and risk of strain injuries. Its flared shape enables the space in the landing zone to be cleared thereby ensuring maximum safety during dismounts. The cable length of the rings is pre-set, and the apparatus comes with a hook to catch and steady the rings.
Another sports equipment from category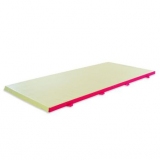 Additional landing mat for competition beam, bars
Article:AVGY1142
Material: Removeable PVC cover, Foam
Color: beige/red
Dimensions:
400 x 200 x 10 cm (LxWxTh).
Compliance with: FIG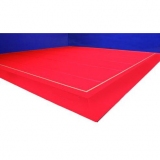 Exercise floor "roll-up tracks"
Article:AVGY1007
Material: Comprises sprungfloor thick roll—up foam/'flame pattern' carpet sections
Color: red
Dimensions: 14 x 14 m, Thickness : 14 cm (10 cm floor + 4 cm track).
Made in: EU.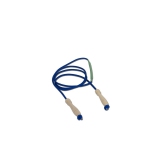 Skipping rope for rhythmic gymnastic
Article:AVSS1486
Made of cotton, with soft plastic thick centrepiece, length 280 cm. With wooden handles. Made in EU.