Training exercise floor with overlay carpet - 13.05x13.05 m - FIG approved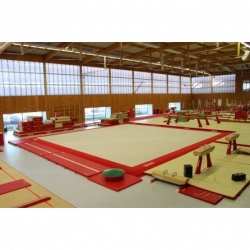 Article:

AVGY1002

Material: Wood Floor, Foam, Evolution carpet

Color: beige/red

Dimensions:

13.05 x 13.05 m.

Made in: EU.

This exercise floor comprises a two-tone gymnastics carpet, 4 cm thick foam and a 10 m thick high elasticity floor, featuring dynamic foam blocks.
The panels are connected together using fastening sections and locking plates for optimum consistency.
The foam area is made up of several widths laid on the floor and joined by hook-and-loop widths.
Each width features a concertina-folding system for quick and easy installation.
The overlay carpet, also made up of several widths, is joined together by hook-and-loop strips underneath the carpet for a completely flat and consistent working surface. The perimeter of the carpet is finished with whip stitching.
Integrated anti-rotation mechanism.
Overall thickness: 14.50 cm.
Floor: 12.50 x 12.50 m.
Foam: 12.60 x 12.60 m.
Evolution carpet: 13.05 x 13.05 m.
Another sports equipment from category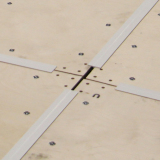 Sprung floor only for training exercise floor (13,05x13,05m) - 12.50x12.50m
Article:AVGY1006
Material: Wood Floor
Color: Wood
Dimensions: 12.50 x 12.50 m, Thickness : 10 cm.
Made in: EU.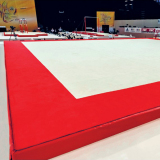 Carpet only for training exercise floor - 13,05 x 13,05 m
Article:AVGY1004
Material: carpet
Color: beige/red
Dimensions: 13,05 x 13,05 m
Compliance with: FIG
Made in: EU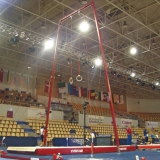 Competition ring frame. Adjustable elacity - FIG approved
Article:AVGY1098
Material: Wood / Metal
Color: beige/red
Dimensions:
Height: 6.05 m.
Compliance with: FIG