Sprung floor only for competition exercise floor (14x14m) - 13x13 m - FIG approved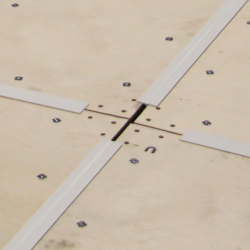 Article: AVGY1005
Material: Wood Floor
Color: Wood
Dimensions: 13 x 13 m, Thickness : 10 cm.
Compliance with: FIG
Made in: EU.
High elasticity floor featuring dynamic foam blocks. The panels are connected together using fastening sections and locking plates for optimum consistency.
Another sports equipment from category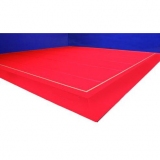 Exercise floor "roll-up tracks"
Article:AVGY1007
Material: Comprises sprungfloor thick roll—up foam/'flame pattern' carpet sections
Color: red
Dimensions: 14 x 14 m, Thickness : 14 cm (10 cm floor + 4 cm track).
Made in: EU.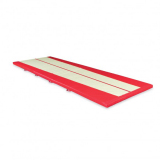 Additional landing mat for competition vaulting - FIG approved
Article:AVGY1048
Material: polyurethane foam / "leather—look" PVC cover.
Color: beige/red
Dimensions:
Overall dim.: 600 x 200 x 10 cm (LxWxTh).
Dimensions of the authorized area: 600 x 95/150 cm (LxW).
Compliance with: FIG
Made in: EU.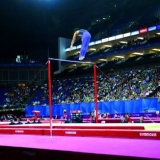 Competition high bar. Standart cable - FIG approved
Article:AVGY1081
Material: Metal / wood
Color: beige/red
Dimensions:
Floor space: 5.50 x 4 m
Height: 2.70 — 2.95 m
Compliance with: FIG