Sprung floor only for training exercise floor (13,05x13,05m) - 12.50x12.50m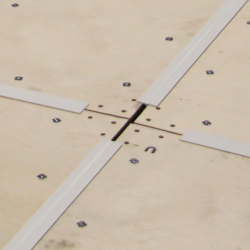 Article:

AVGY1006

Material: Wood Floor

Color: Wood

Dimensions: 12.50 x 12.50 m, Thickness : 10 cm.

Made in: EU.

High elasticity floor featuring dynamic foam blocks. The panels are connected together using fastening sections and locking plates for optimum consistency.
Another sports equipment from category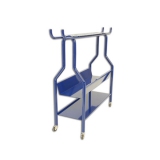 Equipment trolley
Article:AVSS1501
Made in tubular varnished steel with 3 shelves. Complete with 4 rubber wheels. Capacity: 40 clubs, 100 poles, 60 supports, 25 hoops, 25 small ropes. Made in EU.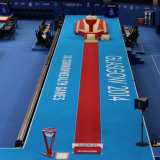 Competition runway - FIG approved
Article:AVGY1042
Material: Carpet
Color: Red
Dimensions: 25 x 1 m. Thickness: 25 mm.
Compliance with: FIG
Made in: EU.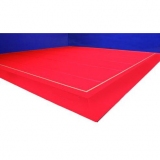 Exercise floor "roll-up tracks" only
Article:AVGY1008
Material: thick roll—up foam/'flame pattern'
Color: red
Dimensions: 14 x 14 m, Thickness : 4 cm.
Made in: EU.