Competition parallel bars with reinforced frame - FIG approved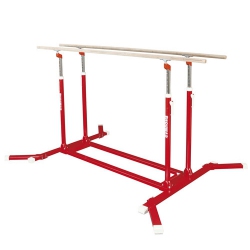 Article:

AVGY1072

Material: Metal / Wood

Color: beige/red

Dimensions:

3.42 x 2.55 m.

Weight: 240 kg.

Compliance with: FIG

Parallel bars with reinforced rails. Bar height adjusts between 1.70 and 2.30 m. Distance between bars adjusts between 37.50 and 65 cm via metal "goose neck" with width marked on calibrated disc. Tightening levers, stainless steel sliding uprights with height adjustment knobs and engraved centimetre scale. Base with non-slip feet.
Another sports equipment from category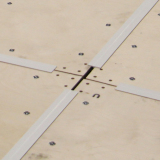 Sprung floor only for competition exercise floor (14x14m) - 13x13 m - FIG approved
Article:AVGY1005
Material: Wood Floor
Color: Wood
Dimensions: 13 x 13 m, Thickness : 10 cm.
Compliance with: FIG
Made in: EU.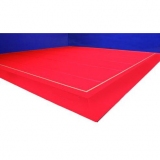 Exercise floor "roll-up tracks"
Article:AVGY1007
Material: Comprises sprungfloor thick roll—up foam/'flame pattern' carpet sections
Color: red
Dimensions: 14 x 14 m, Thickness : 14 cm (10 cm floor + 4 cm track).
Made in: EU.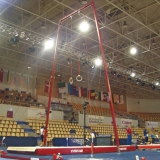 Competition ring frame. Adjustable elacity - FIG approved
Article:AVGY1098
Material: Wood / Metal
Color: beige/red
Dimensions:
Height: 6.05 m.
Compliance with: FIG