Dyna'beam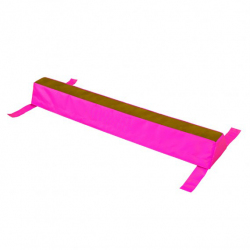 Артикул: AVGY1037
Material: foam-covered
Color: Brown / Purple
Dimensions: 150 x 25/10 x 15 cm (LxWxH).
Made in: EU.
Ideal for initiation into and discovery of gymnastics, this low beam enables work to be done on floor height components and reduce apprehensiveness.
This light and dynamic foam-covered beam has non-slip underside and top identical to the beam body covering.
Possible to associate with other components from Educ'Gym range thanks to hook-and-loop strips.
Another sports equipment from category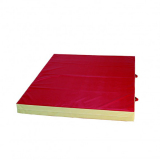 Traditional safety mat duble side
Article:AVGY1169
Material: PVC cover, foam
Color: beige/red
Weight: 34 kg.
Dim.: 240 x 200 x 20 cm (LxWxTh).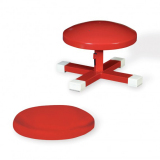 Mushroom
Article:AVGY1097
Material: PVC, Foam, Metall
Color: red
Dimensions: ø: 60 cm.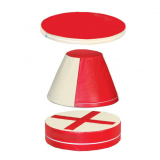 Foam "Mushroom" kit
Article:AVGY1096
Material: PVC, Foam
Color: beige/red
Dimensions:
20 cm / 52 cm / 20 cm