Acrobatic track acroflex with adjustable elasticity - 6x2 m - FIG approved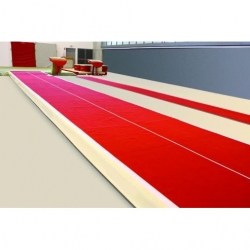 Article:

AVGY1214

Material: PVC cover, JERSEY cover, Foam

Dimensions:

Length: 6 m.

Width: 2 m.

Overall thickness: 23 cm.

Color: beige/red/gray

Sprung floor sections with built-in adjustment mechanism, 4 cm deep foam, covering carpet and side skirts. This track can be adjusted to suit all gymnasts' builds and all ability levels. Due to its design, it contributes to reducing strain injuries due to fatigue during repetitive exercises. Each panel features quick and easy individual adjustment for elasticity, which enables rebound to be modulated over the full 6 m track length.
Another sports equipment from category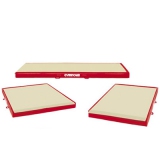 Traditional landing mat for rings - beam - asymmetric, parallel and high bars - with bib across width - 300x200x20 cm - FIG approved
Article:AVGY1118
Material: Removeable PVC cover, Foam
Color: beige/red
Dimensions:
300 x 200 x 20 cm (LxWxTh).
Compliance with: FIG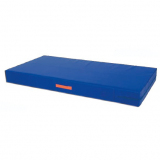 Landing mat
Article:AVSS1040
Filler made of foam, covered with pvc. Dimensions 200x100x20 cm, anti slipping base, density 16 kg/mc. Equipped with handles, zip and breather holes. Made in EU.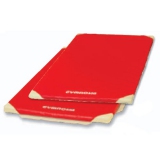 Mat for school without attachment strips
Article:AVGY1147
Material: PVC cover, Foam
Color: beige/red
Dimensions:
200 x 100 x 4 cm (LxWxTh).
Weight: 7 kg.