Acrobatic track acroflex with adjustable elasticity - 6x2 m - FIG approved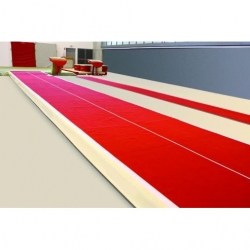 Article:

AVGY1214

Material: PVC cover, JERSEY cover, Foam

Dimensions:

Length: 6 m.

Width: 2 m.

Overall thickness: 23 cm.

Color: beige/red/gray

Sprung floor sections with built-in adjustment mechanism, 4 cm deep foam, covering carpet and side skirts. This track can be adjusted to suit all gymnasts' builds and all ability levels. Due to its design, it contributes to reducing strain injuries due to fatigue during repetitive exercises. Each panel features quick and easy individual adjustment for elasticity, which enables rebound to be modulated over the full 6 m track length.
Another sports equipment from category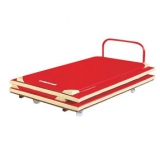 Transport trolley for horizontal storage of mats
Article:AVGY1154
Material: Wood / Metal
Color: black/red
Dimensions: 210 x 122 cm (LxW).
Maximum load: 650 kg.
Handle height: 1.28 m.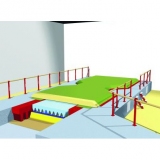 Raised landing pit with integrated platform
Article:AVGY1186
Material: Stretch jersey, PVC, Foam
Color: gray
Dimensions:
Above ground pit, with a platform and wooden guard rail.
This type of pit avoids the need for masonry work.
Provides all the advantages of a GYMNOVA pit (easy exit, visible landing area, hygienic, safe, reduced fire risks), with an advanced design and choice of products.
This pit provides real cushioning for landings, far superior to the technique used for high jump landing (foam lattice).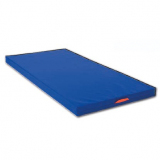 Mat
Article:AVSS1038
D. 60, Dimensions: 200 x 100 x 10 cm. Slip—proof bottom side. Filler: foam. Made in EU.