Rhythmic gymnastics carpet - competition - with joining strips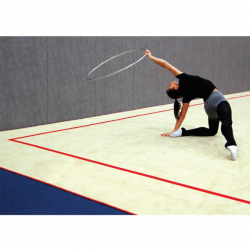 Article: AVGY1021
Identical to art. AVGY1020 but supplied with hook—andloop joining strips, which are fixed under the carpet in order to avoid any gaps.
Material: Carpet
Color: beige/red
Dimensions: 14 x 14 m
Compliance with: FIG
Made in: EU.
Composition: 3 strips of 14 x 4 m and 1 strip of 14 x 2 m. 13 x 13 m performance area limit line marked out in 5 cm wide self-adhesive tape.
Another sports equipment from category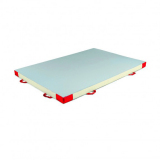 Additional safety mat
Article:AVGY1159
Material: PVC cover, Jersey, foam
Color: beige/red/blue
Weight: 14 kg.
Dim.: 200 x 140 x 10 cm (LxWxTh).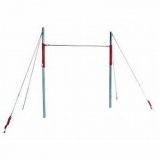 Training adjustable high bar. Short cable
Article:AVGY1084
Material: Metal / wood
Color: beige/red
Dimensions:
Floor space: 4 x 2 m.
Height: 2.70 — 2.95 m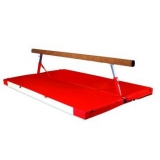 Compact beam
Article:AVGY1033
Material: Metal / Wood / PVC
Color: beige/red
Dimensions: 460 x 160 x 100 cm
Made in: EU.