Weather cover for high jump landing system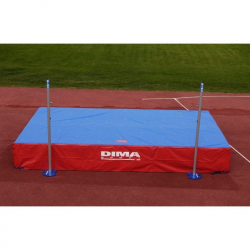 Article:

AVDM1221

In 1000 denier Tergal fabric. 4 stitchings Seam. System with hooks and straps in the corners closing the weather cover to the landing mat, and protecting against high wind.

Possibility of insertion of the draining dome, preventing from water stagnation on the landing mat (optional).

Made in EU.

Dimensions:
For Basic high jump landing system - 5.00x2.50x0.60 m
For Club high jump landing system - 5.00x3.00x0.70 m
For Interclub high jump pit - 6.00 x 3.00 x 0.70 m
For Challenger high jump pit - 6.00 x 3.25/3.00 x 0.70 m
For International high jump landing system - 6.00x4.00x0.70 m
For high jump Concept II / Challenger landing system - 6.00x4.25/4.00x0.70 m
For Major Championship high jump landing system - 7.00 x 4.25/4.00 x 0.70 m
For Concept III high jump landing system - 8.00x4.25/4.00x0.77 m
Another sports equipment from category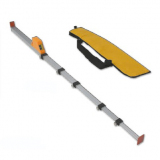 Telescopic height gauge for high jump
Article:AVSS1160
Made of aluminium, with mm—scale, measuring up to 300 cm. Complete with base, level and slider cursor. Made in EU.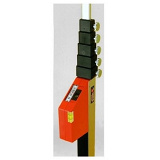 Telescopic Measuring Device
Article: AVNO0063
Telescopic measuring device with built—in measuring tape. Maximum measuring range 8 m. Made in Eu.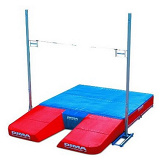 Reversible meeting modular pole vault landing system
Article: AVDM1018
Dimensions: 7.00 X 5.00 X 0.80 / 0.50 M
Distance between the vault boxes: 6.15 m.
Colour: Red, blue
Level: F.F.A / I.A.A.F LEVEL 1
Compliance with: NF EN 12503—2 type 11 certified.