Custom made sand pit cover for long jump and triple jump
Article: AVDM1169
The sand pit cover is essential to keep the sand pit clean and protect it from bad weather conditions.
Made from 1000 deniers PVC fabric.
Wide choice of colours.
Possibility to customize your sand pit cover on request. Made in EU.
Another sports equipment from category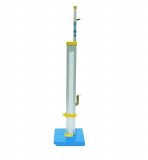 Elite Telescopic high jump standards
Article: AVDM1052
Material: Steel, aluminium.
Heights from 1.60 to 2.70 m.
Colour: Blue, grey, yellow, white.
Compliance with: I.A.A.F compliant.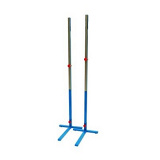 School high jump standards
Article: AVDM1045
Heights from 0.60 m to 2.00 m.
Colour: Blue, red, green
The School high jump standards are fitted with rest on which to place a crossbar. T—shaped base with rubber pads. Made in EU.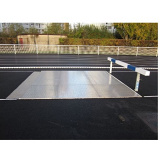 Steeplechase water jump cover
Article: AVDM1081
For a 50 to 70 cm deep water jump system.
Colour: Grey.