Club high jump standards with deflector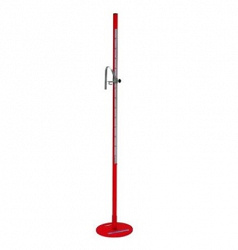 Article: AVDM1048
Material: Electrogalvanised steel
Heights from 0.60 to 2.20 m.
Colour: Red, grey.
Electrogalvanised bar rest pin, with elastic attachment and deflector to prevent crossbar from falling vertically and injuring athlete on landing. Allows a work with crossbar without apprehension. Heavy base. Made in EU.
Club high jump standards with deflector
Another sports equipment from category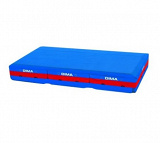 Basic high jump landing system
Article: AVDM1037
Dimensions: 5.00 X 2.50 X 0.60 M
Colour: Blue, red
Compliance with: NF EN 12503—1 type 8 and NF—EN 12503—2 types 9 and 10 certified.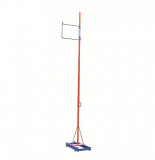 Basic pole vault uprights
Article: AVDM1032
Material: Steel
Bar height adjustable from 1.00 to 4.80 m.
Colour: Blue, red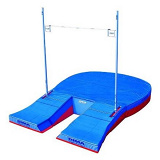 Major championship modular pole vault landing system. IAAF certificate.
Article: AVDM1016
Dimensions: 10.00 X 7.00 X 0.87 / 0.47 M
Colour: Red, blue
Level: F.F.A / I.A.A.F LEVEL 2
Compliance with: I.A.A.F. N° E—04—0371 certified.
NF EN 12503—2 type 11 certified.