Pole Vault Pit Athena 2 Round. IAAF certificate.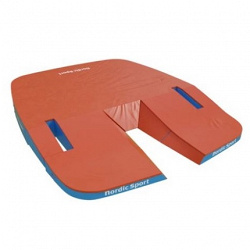 Article:

AVNO0036

Competition pit. Protection pads for stands included. 880x670x80 cm.

All Pole Vault landing pits are delivered with a reversible spiked shoe protector. Rounded corners. Made in EU.
Another sports equipment from category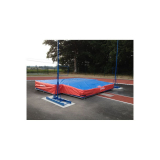 Weather cover for pole vault landing system
Article: AVDM1220
In 1000 denier Tergal fabric. 4 stitchings Seam. System with hooks and straps in the corners closing the weather cover to the landing mat, and protecting against high wind.
Possibility of insertion of the draining dome, preventing from water stagnation on the landing mat (optional).
Made in EU.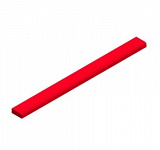 Foul board for reversible competition take-off board
Article: AVDM1061
Dimensions: 1220 x 100 x 37 mm
Colour: Red
Compliance with: I.A.A.F certified
Red laquered for better visibility by the athlete. Designed to fit the ref. AVDM1245. Reversible Competition take—off board. Made in EU.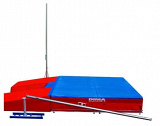 Extended pole-vault rails with slider carts
Article: AVDM1026
Dimensions: 2000 x 350 mm
Heavy base fitted with adjustment screws for leveling the pole vault uprights in the event of uneven ground.
Visualization of the rolling base positioning by metric indicator supplied with a locking system.
Interior sliding rolling base guided by 8 ball—bearing wheels and 4 lateral wheels for increase alignment. 2 adjustable tie rods for upright stability.