International double-front up & down comfort plus single cover pole vault landing system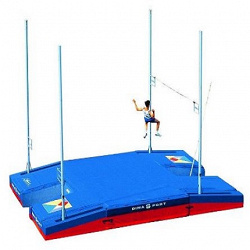 Article:

AVDM1023

Dimensions: 11.00 X 6.00 X 0.87 / 0.47 M

Distance between vault boxes: 7.00 m

Colour: Red, blue

Level: F.F.A / I.A.A.F LEVEL 2

Compliance with: NF EN 12503-2 type 11 certified.

The blocks and the upper mat are covered with weather-resistant synthetic material, the upper side of which is covered with a mesh to protect against studded shoes.
Uprights rolling bases fully integrated within the landing system.
The upper mat is 7 cm thick with a cover made of material that protects from studded shoes.
Metric marking to adjust the position of uprights.
The block filler is made of polyurethane foam with a density of 24 kg / m³.
Blocks, mats connected by belts.
Additional upper mat-cover.
Double font extensions 200 cm.
The central sections rest on a galvanized platform.
Made in EU.
Another sports equipment from category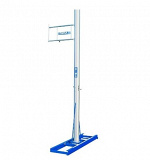 Competition pole-vault uprights without slider carts. IAAF certificate.
Article: AVDM1028
Height adjustment from 1.70 to 6.45m.
These uprights have to be combined with rails and sliding carts (several models available).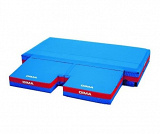 BASIC pole vault landing system
Article: AVDM1001
Dimensions: 4.25X5.00X0.60/0.40M
Color: Red, blue
Compliance with: NF EN 12503—1 type 8 and NF—EN 12503—2 types 9 and 10 certified.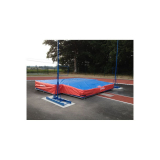 Weather cover for pole vault landing system
Article: AVDM1220
In 1000 denier Tergal fabric. 4 stitchings Seam. System with hooks and straps in the corners closing the weather cover to the landing mat, and protecting against high wind.
Possibility of insertion of the draining dome, preventing from water stagnation on the landing mat (optional).
Made in EU.