Pair of high jump stands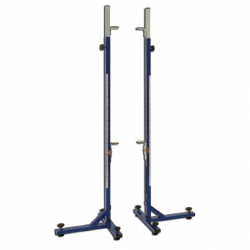 Article: AVSS1156
Сrossbar's height adjustment up to 260 cm.
T-base made of varnished steel equipped with 3 adjustable rubber feet and a level for perfect vertical positioning. Galvanized and varnished telescopic steel posts featuring a metric scale for adjusting the crossbar height. Made in EU.
Another sports equipment from category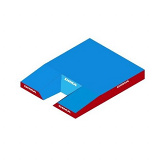 Meeting single cover pole vault landing system, model.
Article: AVDM1007
Dimensions: 7.00 X 5.00 X 0.80 / 0.50 m
Colour: Red, blue
Level: F.F.A / I.A.A.F LEVEL 1
Compliance with: NF EN 12503—2 type 11 certified.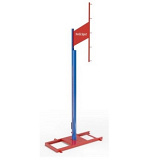 Telescopic Pole Vault Standards Elite. IAAF certificate.
Article: AVNO0040
Telescopic IAAF certified Pole Vault standard for competition use. Easy to move from 0 point to 80 cm. Hight from 270 till 630 cm.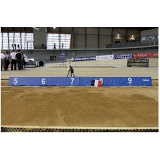 Distance indicator board in foam for long jump
Article: AVDM1167
Distance indicator board in foam entirely covered with 1000 deniers PVC fabric.
Free—standing. For total safety. Made in EU.