International double-front up & down modular pole vault landing system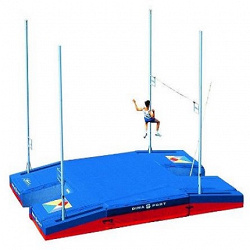 Article:

AVDM1022

Dimensions: 11.00 X 6.00 X 0.87 / 0.47 M

Distance between vault boxes: 7.00 m

Colour: Red, blue

Level: F.F.A / I.A.A.F LEVEL 2

Compliance with: NF EN 12503-2 type 11 certified.

The blocks and the upper mat are covered with weather-resistant synthetic material, the upper side of which is covered with a mesh to protect against studded shoes.
Uprights rolling bases fully integrated within the landing system.
The upper mat is 7 cm thick with a cover made of material that protects from studded shoes.
Metric marking to adjust the position of uprights.
The block filler is made of polyurethane foam with a density of 24 kg / m³.
Blocks, mats connected by belts.
Each block has its own cover.
Double font extensions 200 cm.
The central sections rest on a galvanized platform.
Made in EU.
Another sports equipment from category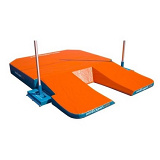 Pole Vault Pit World Cup 4 Monocube. IAAF certificate.
Article: AVNO0039
Landing pit with one PVC cover, size 800x600x80 cm.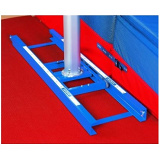 Standard pole vault rails with slider carts
Article: AVDM1025
Dimensions: 1500x350mm.
Heavy grade steel base fitted with adjustment screws (for levelling the pole vault uprights in the event of uneven ground).
Visualisation of the rolling base positioning by metric indicator supplied with a locking system.
Interior sliding rolling base guided by 8 ball—bearing wheels and 4 lateral wheels for increase alignment. 2 adjustable tie rods for upright stability.
Made in EU.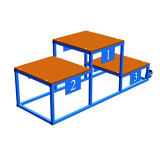 3 place steel award`s stand
Article: AVDM1090
Material: Metal, CTBX plywood
Dimensions: 160 x 55 x 60 cm
Colour: Blue, brown
On wheels for easy transportation. Made in EU.