International single cover pole vault landing system. IAAF certificate.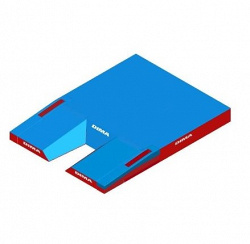 Article: AVDM1014
Dimensions: 8.00 X 6.00 X 0.80 / 0.40 m
Colour: Red, blue
Level: F.F.A / I.A.A.F LEVEL 2
Compliance with: I.A.A.F N° E—99—0076 certified. NF EN 12503—2 type 11 certified.
The blocks and the upper mat are covered with weather-resistant synthetic material, the upper side of which is covered with a mesh to protect against studded shoes.
The upper mat is 7 cm thick with a cover made of material that protects from studded shoes.
Additional upper mat-cover.
The block filler is made of polyurethane foam with a density of 24 kg / m³.
Metric marking to adjust the position of uprights.
Blocks, mats connected by belts.
Font extensions 200 cm.
Made in EU.
Another sports equipment from category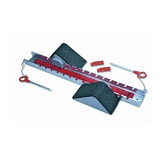 Schools Starting blocks
Article: AVDM1086
Colour: Grey, red, black.
Center rail with 14 adjustment options. Blocks made of aluminium and has rubber pads. Delivered with spikes and pins to hold the starting block on tracks. Made in EU.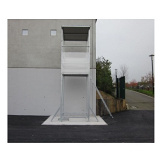 Timing platform with camera stand
Article: AVDM1093
Made from galvanized steel tube with 4 additional 1 meter spreaders at the base garanteeing maximum ground surface support.
Platform in non—slip wood, fitted with a safety rail.
Pre—curved roof for greater resistance and perfect water drainage.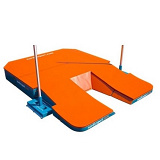 Pole Vault Pit World Cup 4. IAAF certificate.
Article: AVNO0038
Competition pit, IAAF certified. Protection pads for stands included. 800x600x80 cm.