Reversible meeting modular pole vault landing system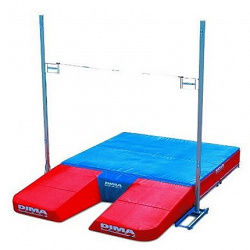 Article:

AVDM1018

Dimensions: 7.00 X 5.00 X 0.80 / 0.50 M

Distance between the vault boxes: 6.15 m.

Colour: Red, blue

Level: F.F.A / I.A.A.F LEVEL 1

Compliance with: NF EN 12503-2 type 11 certified.

The blocks and the upper mat are covered with weather-resistant synthetic material, the upper side of which is covered with a mesh to protect against studded shoes.
The upper mat is 7 cm thick with a cover made of material that protects from studded shoes.
The block filler is made of polyurethane foam with a density of 24 kg / m³.
Each block has its own cover.
Blocks, mats connected by belts.
Reversible font extensions 200 cm.
The central sections rest on a galvanized platform.
Made in EU.
Another sports equipment from category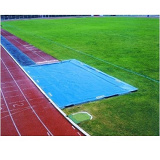 Custom made sand pit cover for long jump and triple jump
Article: AVDM1169
The sand pit cover is essential to keep the sand pit clean and protect it from bad weather conditions.
Made from 1000 deniers PVC fabric.
Wide choice of colours.
Possibility to customize your sand pit cover on request. Made in EU.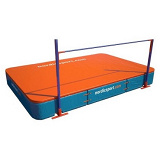 High Jump Pit Super 4.0. IAAF certificate.
Article: AVNO0034
Competition pit consist of 3 base units to IAAF regulations. 600x400x70 cm.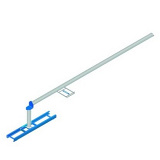 Competition foldable pole-vault uprights without rail. IAAF certificate.
Article: AVDM1029
Adjustable height from 1.70 m to 6.45 m.
Foldable.
These pole—vault uprights are to complete with rails (diverse models available according to configuration).