Extended pole-vault rails with slider carts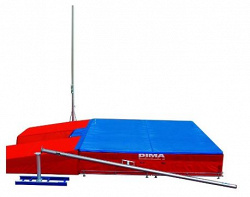 Article: AVDM1026
Dimensions: 2000 x 350 mm
Heavy base fitted with adjustment screws for leveling the pole vault uprights in the event of uneven ground.
Visualization of the rolling base positioning by metric indicator supplied with a locking system.
Interior sliding rolling base guided by 8 ball—bearing wheels and 4 lateral wheels for increase alignment. 2 adjustable tie rods for upright stability.
Simple, sturdy and reliable, these extended pole-vault rails are particularly recommended to support small-sized pole vault landing systems (Club, Meeting, Reversible landing systems).
Since this rail is longer, it allows the uprights to be folded up into an integral shed/garage (For a landing system with dimensions less than 7m). Made in EU.
Another sports equipment from category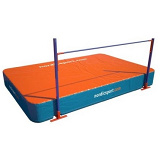 High Jump Pit Super 4.0 Monocube. IAAF certificate.
Article: AVNO0035
Landing pit with one PVC cover, size 600x400x70cm.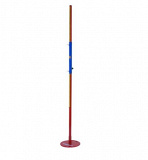 IAAF high jump standards
Article: AVDM1051
Material: Steel.
Heights from 0.80 to 2.60 m.
Colour: Blue, red, brown.
Compliance with I.A.A.F compliant. Heavy and stable base,
2 bar rests. Made in EU.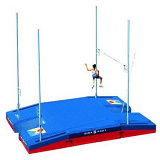 International double-front up & down single cover pole vault landing system
Article: AVDM1024
Dimensions: 11.00 X 6.00 X 0.80 / 0.40 M.
Distance between vault boxes: 7.00 m
Colour: Red, blue
Level: F.F.A / I.A.A.F LEVEL 2
Compliance with: NF EN 12503—2 type 11 certified.