Meeting double-front single cover pole vault landing system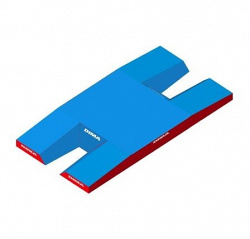 Article:

AVDM1021

Dimensions: 10.00 X 5.00 X 0.80 / 0.50 M

Distance between vault boxes: 6.00 m.

Colour: Red, blue

Level: F.F.A / I.A.A.F LEVEL 1

Compliance with: NF EN 12503-2 type 11 certified.

The blocks and the upper mat are covered with weather-resistant synthetic material, the upper side of which is covered with a mesh to protect against studded shoes.
The upper mat is 7 cm thick with a cover made of material that protects from studded shoes.
The block filler is made of polyurethane foam with a density of 24 kg / m³.
Blocks, mats connected by belts.
Double font extensions 200 cm.
Made in EU.
Another sports equipment from category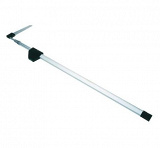 Competition telescopic height gauge with pointer
Article: AVDM1153
This Competition telescopic height gauge is used in Competition. Height from 1.80 to 8 meters. Direct reading in box with display window. Sliding elements in light alloy. Easy to transport and to store. Made in EU.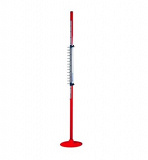 Multi-position high jump standards
Article: AVDM1046
Heights from 0.60 to 2.20 m.
Colour: Blue, red, white.
Allows the crossbar or elastic tape to be quickly positionned at various heights using 14 bar rest pins placed every 5 cm. Heavy base to avoid any risk of falling over. Made in EU.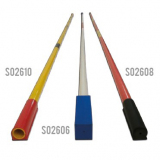 Pole vault crossbar
Article:AVSS1166
Coloured, made of aluminium, circular section, length 4.50 mt. Made in EU.