Lane marker box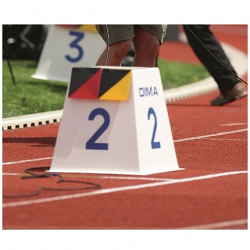 Article:

AVDM1088

Material: Resistant polyester

Dimensions: 50 x 50 x 60 cm

Colour: Red, yellow, blue, white

Lane marker box lightweight, stackable and easy to move. 4-sided markings provides good visibility for competitors, officials and spectators. In wear resistant polyester, with number marking, fitted with 2 false start small plates (1 red and 1 yellow). Made in EU.

Lane marker box
Another sports equipment from category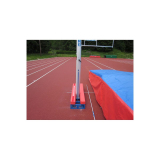 Extended pole-vault rail base pad
Article: AVDM1203
I.A.A.F. N° E—99—0077 certified.
Meets FFA (French Federation for Athletics) and I.A.A.F. specifications.
Compliant, these base pads have been specialy designed to fit our extended pole—vault rails (ref.AVDM1201).
Steel structure covered with compact foam encased in highly resistant PVC fabric.
Adjustable velcro measurement scale on top of the pad.
Made in EU.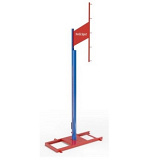 Telescopic Pole Vault Standards Elite. IAAF certificate.
Article: AVNO0040
Telescopic IAAF certified Pole Vault standard for competition use. Easy to move from 0 point to 80 cm. Hight from 270 till 630 cm.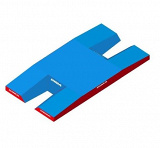 Meeting double-front comfort plus single cover pole vault landing system
Article: AVDM1020
Dimensions: 10.00 X 5.00 X 0.80 / 0.50 M
Distance between vault boxes: 6.00 m.
Colour: Red, blue
Level: F.F.A / I.A.A.F LEVEL 1
Compliance with: NF EN 12503—2 type 11 certified.