Major championship comfort plus single cover pole vault landing system. IAAF certificate.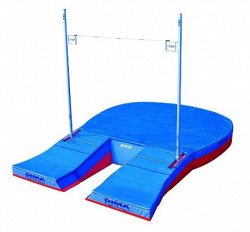 Article:

AVDM1017

Name: Major championship comfort plus single cover landing system

Dimensions: 10.00 X 7.00 X 0.87 / 0.47 M

Colour: Red, blue

Level: F.F.A / I.A.A.F LEVEL 2

Compliance with: I.A.A.F. N° E-04-0371 certified. NF EN 12503-2 type 11 certified.

The blocks and the upper mat are covered with weather-resistant synthetic material, the upper side of which is covered with a mesh to protect against studded shoes.
The upper mat is 7 cm thick with a cover made of material that protects from studded shoes.
The block filler is made of polyurethane foam with a density of 24 kg / m³.
Additional upper mat-cover.
Metric marking to adjust the position of uprights.
Blocks, mats connected by belts.
Font extensions 300 cm.
Made in EU.
Another sports equipment from category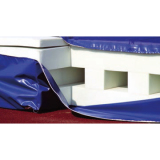 Pole vault landing area
Article:AVSS1170
Dimensions: 700x500x80 cm.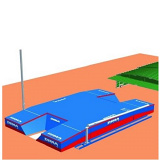 Pole-vault rail with sliding cart to be fixed or embedded
Article: AVDM1027
Dimensions: 1500 x 350 mm
Heavy base fitted with adjustment screws for leveling the pole vault uprights in the event of uneven ground.
Visualization of the rolling base positioning by metric indicator supplied with a locking system.
Interior sliding rolling base guided by 8 ball—bearing wheels and 4 lateral wheels for increase alignment. 2 adjustable tie rods for upright stability. Made in EU.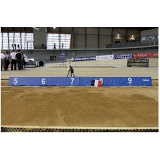 Distance indicator board in foam for long jump
Article: AVDM1167
Distance indicator board in foam entirely covered with 1000 deniers PVC fabric.
Free—standing. For total safety. Made in EU.