International double-front up & down single cover pole vault landing system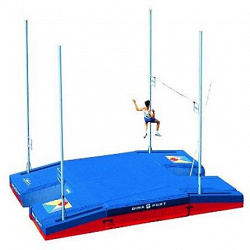 Article:

AVDM1024

Dimensions: 11.00 X 6.00 X 0.80 / 0.40 M.

Distance between vault boxes: 7.00 m

Colour: Red, blue

Level: F.F.A / I.A.A.F LEVEL 2

Compliance with: NF EN 12503-2 type 11 certified.

The blocks and the upper mat are covered with weather-resistant synthetic material, the upper side of which is covered with a mesh to protect against studded shoes.
Uprights rolling bases fully integrated within the landing system.
The upper mat is 7 cm thick with a cover made of material that protects from studded shoes.
Metric marking to adjust the position of uprights.
The block filler is made of polyurethane foam with a density of 24 kg / m³.
Blocks, mats connected by belts.
Double font extensions 200 cm.
The central sections rest on a galvanized platform.
Made in EU.
Another sports equipment from category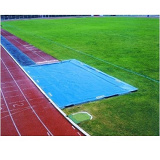 Custom made sand pit cover for long jump and triple jump
Article: AVDM1169
The sand pit cover is essential to keep the sand pit clean and protect it from bad weather conditions.
Made from 1000 deniers PVC fabric.
Wide choice of colours.
Possibility to customize your sand pit cover on request. Made in EU.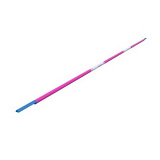 High jump Crossbar Anti-Roll 4 m. IAAF certificate.
Article: AVNO0043
4,5 m fiberglass crossbar with groundbreaking anti—rolling ends.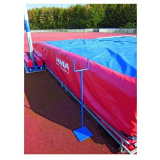 Support for foldable pole-vault standards
Article: AVDM1030
Material: Epoxy painted steel
Colour: Blue
This support for foldable pole—vault standards enables to hold the standards once folded preventing them from touching the ground. Made in EU.