Pole Vault Pit Athena 2. IAAF certificate.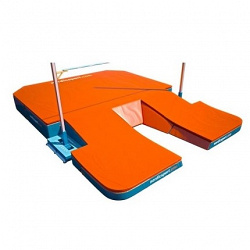 Article: AVNO0037
Competition pit, IAAF certified. Protection pads for stands included. 880x670x80 cm.
All Pole Vault landing pits are delivered with a reversible spiked shoe protector. Spiked shoe netting Ferrari, for all spiked shoe protectors. Made in EU.
Another sports equipment from category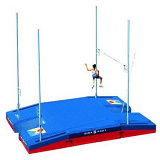 International double-front up & down single cover pole vault landing system
Article: AVDM1024
Dimensions: 11.00 X 6.00 X 0.80 / 0.40 M.
Distance between vault boxes: 7.00 m
Colour: Red, blue
Level: F.F.A / I.A.A.F LEVEL 2
Compliance with: NF EN 12503—2 type 11 certified.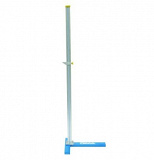 Interclub high jump standards
Article: AVDM1049
Heights from 0.15 to 2.00 m.
Colour: Blue, grey, yellow.
Additional: Uprights in anodised aluminum on a heavy steel base. Made in EU.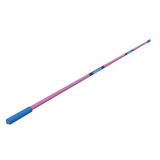 Pole Vault Crossbar 4.5 m. IAAF certificate.
Article: AVNO0028
Made of high quality fibreglass and equipped with approved end pieces according to new IAAF rules. Length 4.5 m. Made in EU.