Sports main equipment for rugby at stadiums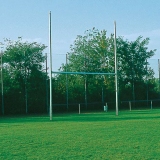 Article: rugby—goals
Made in: EU
Model: 600
Category: Equipment for Rugby
Technicals Features:
Made of the extremely stable and thoroughly proven soccer goal sections. The crossbar is attached to the uprights with aluminium fastening elements. Easy assembly and disassembly with screw fastenings – no welds. One hundred percent steady goal location in 800 mm ground sockets through application of special wedges – no wavering of goals.

Standard equipment: Matt silver anodised finish
Rugby Goals, incl. aluminium fastening elements, groundsockets – insertion depth 800 mm – with covers, and special wedges.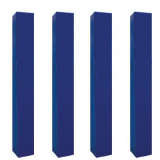 Article: rugby—goals———set—of—protective—pads
Made in: EU
Model: S05144
Category: Equipment for rugby
Technicals Features:
Complete set of protective pads for pair of rugby goals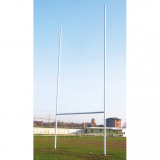 Article: rugby—goals—with—ground—sockets—height—11—mt
Made in: EU
Model: S05142
Category: Equipment for rugby
Technicals Features:
Pair of aluminium rugby goals with ground sockets, height 11 mt over ground level