Sports equipment for badminton at school halls and playgrounds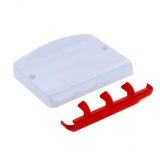 Article:

stadium-seats-m94-with-front-piece---fiba-approved

Made in: EU

Model: M94 with front piece

Category: Tribune, seats

Technicals Features:

Seat without backrest, FIBA approved. Ideal for steps with reduced depth.Its shape allows the user to enjoy the sport event in total comfort, without sacrificing strength and durability. It provides up to 3 fixing points.

OVERALL DIMENSIONS

Height 85 mm, depth 300 mm, width 400 mm

MATERIAL

Polypropilene (PP) or polyamide (PA); injection moulded

INSTALLATION

Directly on concrete step, on riser mounted polyamide or metallic bracket, on metal beam 2-3-4-5 seats

FIXING

Provides from 1 to 3 fixing points

DRAINAGE

Its central hole prevents the accumulation of water.

ACCESSORIES

PVC or aluminium numbered label secured by means of anti-tear rivets, front piece M94, metallic armrest with plastic pad eventually complete of glass holder.