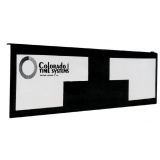 Article: touchpad—for—swimming———fina—approved
Made in: EU
Model: MC813.4
Category: Scoreboards and timing and scoring systems
Technicals Features:
This touchpad's feature a tough plastic backbone. The touchpad's combine the best starting and turning surface available. They respond to a touch remarkably light — but provide a push—off thoroughly firm.
The touchpad's have allplastic construction that is tough and durable, yet their textured ,non—skid surface is gentle on swimmers hands and feet. The solid quarter inch plastic backbone, molded one—piece connectors and non—corrosive finish provide long—lasting reliability. Dependable, internally sealed switches record even the lightest swimmers touch on the fully active face of all CTS pads, and along the top edge of gutter—mounted pads. You get an accurate finish every time with no вead spots.