Sports equipment for beach handball and beach sports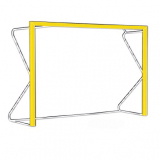 Made in: EU
Model: S05002
Category: Equipment for beach sports
Technicals Features:
Pair of yellow colour aluminium beach handball goals, section 80x80 mm, dimensions 300x200 cm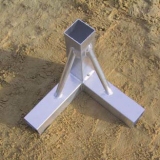 Made in: EU
Model: 280
Category: Equipment for beach handball
Technicals Features:
Goal frame of special aluminium profile 80x80 mm with yellow powder coated finish. Inside dimensions 3x2 m.
Same construction as of beach soccer goals.

Standard equipment: Yellow powder coated finish. Incl. net hoops and net hoop braces of aluminium tube, diameter 30 mm, Safety system net holders and special ground sockets – insertion depths 300 mm – with covers.