Sports equipment for taekwondo at arts facilities: floorings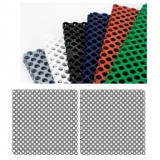 Article: flooring—tiles—solkit
Made in: EU
Model: Solkit
Category: Equipment for locker rooms, floorings

Technicals Features:
Meticulously produced using high—density virgin polyethylene, this top quality material allows us to offer a 10—year warranty under normal usage conditions. We offer two different options —either high—density PE (more rigid) or low—density PE (more flexible)— and a wide range of colours to address a host of different needs.

Dimensions: 50 x 50 x 2 cm.

Weight: 1.10 kg per tile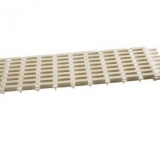 Article: tiles—for—flooring—tf—80
Made in: EU
Model: TF—80
Category: Eguipment for locker rooms, floorings

Technicals Features:
Recommended for covering areas that require drainage runoff, such as the edges of swimming pools, in showers and in locker rooms.

Made from high—quality polypropylene copolymer with an openwork surface of 36 x 7 mm grooves for drainage purposes.

In a rectangular shape of 120 mm wide by 485 mm long by 20 mm thick (fig. A), weighing 0.340 g per plank. There are a series of grooved "teeth" at each end (1) for locking one plank onto the next, either lengthwise or widthwise.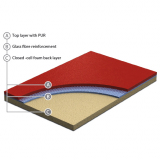 Article: flooring—vinyl—for—gaming—halls—gymfit—50
Made in: EU
Model: GYMFIT 50
Category: Flooring for indoor sport halls
Technicals Features:
RECOMMENDED APPLICATION AREAS:
— Schools
— Preschool institutions
— Fitness halls
— Halls for martial arts

Gymfit 50 is an easy—to—clean sports flooring with a PUR Surface feature.
Its surface design ensures an optimal slip resistance that helps to reduce the slip and grip hazards. Due to the foot comfort and excellent resistance to indentation provided by the high—density foam backing, the product is recommended primarily for the installation in fitness studios , schools and preschool institutions.