Scoring and Timing systems for diving - FINA Approved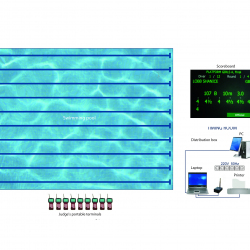 Article:

STDV

Manufacturer: Swiss Timing (Switzerland)

Category: Scoring and Timing systems

Specifications:

- MTE judge's portable terminal with competition handling software.

■ Lightweight, ergonomic housing

■ Easily understandable graphic user interface

■ Wide range wireless connecton

■ Up to 11 MTEs connected in series for synchronized diving

- Scoreboard Calypso or Video LED display for diving

Sertifcates : FINA Approved

General Description:

The Swiss company "Swiss Timing" offers scoring and timing systems for the sports industry. The single features and complete sets for swimming timing and scoring system strongly depend on the configuration of the sports area in which they are installed and the level of sporting activities to be conducted. If you want to implement a scoring and timing system - please refer to our managers. They will help you decide on the appropriate equipment and will answer all your questions about options, costs, delivery dates, etc. of the system.
Another sports equipment from category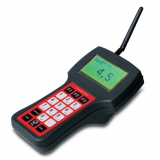 Judge's portable terminal MTE
Article: 3474.915
Manufacturer: Swiss Timing (Switzerland)
Category: Refereeing and timing systems
Model:] MTE set of 15 wireless judge's keypad
Specifications:
Dimensions (excl. antenna): 220 x 115 x 95 mm
Weight (including battery): 480 g
Housing material : polyamide
Power supply: integrated battery. Battery autonomy: 12 hours @ 20°C
Display: 128 x 64 pixel, monochrome matrix LCD
Buzzer: yes, integrated
Wireless transmission protocol: ZigBee
Transmission range: 100 m (in open space)
Operating temperature: 0 to 50 °C
Certifications: FINA demand compliance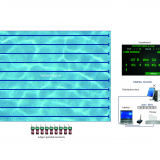 Scoring and Timing systems for diving - FINA Approved
Article:STDV
Manufacturer: Swiss Timing (Switzerland)
Category: Scoring and Timing systems
Specifications:
— MTE judge's portable terminal with competition handling software.
■ Lightweight, ergonomic housing
■ Easily understandable graphic user interface
■ Wide range wireless connecton
■ Up to 11 MTEs connected in series for synchronized diving
— Scoreboard Calypso or Video LED display for diving
Sertifcates: FINA Approved