Box Ring 7.5x7.5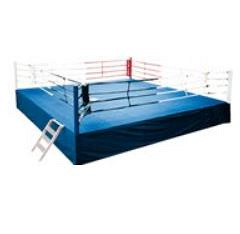 Article:

AVTT1005

Made in: EU

Dimensions:

external: 7.5 x 7.5 m

internal: 6.1 x 6.1 m

height 1 m

Material:

- frame - steel

- floor – wooden

- foam cover 1,5cm

- canvas cover - PVC

Colour: White, blue, red.

Technical data: The boxing ring external dimensions are 7.5 x 7.5 m. The ring floor is situated 1 m above ground level, and it is supported by metal frame. The ring is surrounded by 4 lines of ropes attached one above the other. The ropes surrounding create an area of 6.1 x 6.1m Four corner columns are colored as follows: 1 red – 1 blue – 2 white, according to international rules. On wooden floor is placed layer of hardened foam over which is placed tilt. Gross weight 1500kg.
4 ropes
4x soft corners
16x chain covers
wooden floor
1,5cm foam
upper and side canvas
3x stairs
2x spit containers
8x rope stripes
Another sports equipment from category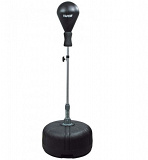 Water Punchball – adjustable
Article: AVKW1019
Made in: EU
The Punching Bag on Stand is a sturdy training tool to improve speed, timing, coordination and impact technique and is perfect for all Martial Arts styles, especially for boxing or kickboxing.
Colour: Black
Total height: 150 cm
Height: Adjustable 60 — 120 cm
Base: Approx. 22 cm
Punch: About 27 cm
Weight: Filled approx. 31.5 kg / unfilled approx. 4.5 kg
Capacity container: 20 ltr. (0,02cbm)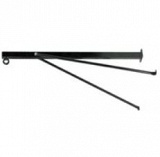 Wall brackets PROFI
Article: AVTT1024
Made in: EU
Wall brackets made of extra—resistant steel, to hang up you heavy bags in safety. Bag is not included.
Lenght of outrigger: 110 cm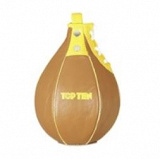 Boxing speedball "retro style"
Article: AVTT1019
Made in: EU
SpeedBall genuine leather, balanced for a superfast action and modeled to obtain precise bounces. Made with top quality material and finishes to perform speed.