Box Ring 6.5x6.5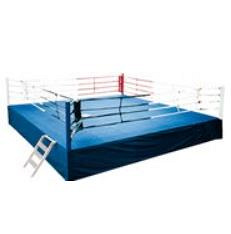 Article:

AVTT1004

Made in: EU

Dimensions:

external: 6.5 x 6.5 m

internal: 5.1 x 5.1 m

height 1 m

Material:

- frame - steel

- floor – wooden

- foam cover 1,5cm

- canvas cover - PVC

Colour: White, blue, red.

Technical data: The boxing ring external dimensions are 6.5 x 6.5 m. The ring floor is situated 1 m above ground level, and it is supported by metal frame. The ring is surrounded by 4 lines of ropes attached one above the other. The ropes surrounding create an area of 5.1 x 5.1m Four corner columns are colored as follows: 1 red – 1 blue – 2 white, according to international rules. On wooden floor is placed layer of hardened foam over which is placed tilt. Gross weight 1500kg.
4 ropes
4x soft corners
16x chain covers
wooden floor
1,5cm foam
upper and side canvas
3x stairs
2x spit containers
8x rope stripes
Another sports equipment from category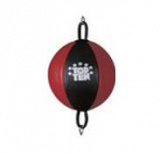 Double-End Ball
Article: AVTT1018
Made in: EU
Double—End Ball, genuine leather covered, with two elastic ropes at the ends and reinforced hooks. Steel loops.
For speed and precision training on punch and kicks.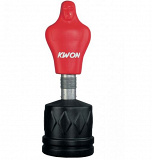 Water Dummy
Article: AVKW1023
Made in: EU
Free standing punch bag with extremely high quality, attractive design and easy to handle.
Colour: Red/Black
Unfilled weight:
20 kg. water—filled: 150 kg. sand—filled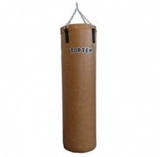 Retro heavy bag 150
Article: AVTT1013
Made in: EU
Material: Special pressed mixture
Dimensions: Ø 33 cm
Height: 150cm
Weight: 50 kg
Colour: Brown
Additional: Steel chains included.