Leg extension and leg curl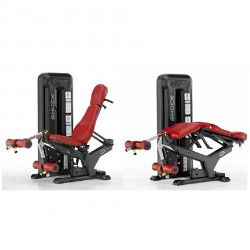 Article: AVTJ3027
Length: 1638 mm.
Width: 1070 mm.
Height: 1505 mm.
Weight: 175 kg.
Main frame: Steel tube of 120x50x2mm OVAL. and 100x50x2 mm.
Pictogram instructions included.
Label Warning signs and safety of use.
Needle selection of the weights of aluminum magnet to prevent falling when
performing the exercises and spiral wire to prevent their loss.
Cable traction weights: Steel in a 7x19 configuration with 3 +1 mm. in diameter and coated with polyamide to 4 mm. with a breaking strength of 560 K.
Pulleys: Made of polypropylene, double sealed bearings and precision ground to ensure long life of the cables, smooth movement and maximum durability.
Fairings: Cowl of the towers where the weights on ABS to improve the appearance and increase safety.
Safety: Machine manufactured under UNE-EN 957.1 and 957.2
Plates or weights, gauge steel, polyamide caps have a smoother operation and avoid noise in the exercise.
Load: 60 K. (plates or weights of 5 K.)
Seat and back: Made of high density foam (150) and a thickness of 4 cm. and upholstered with fireproof skay.
Support: Adjustable.
The grips are nonallergic and non-slip.
The leg rest is adjustable.
Painting: Metal parts undergo degreasing and phosphate tunnel, then passes through an electrostatic paint booth and painted with polyester powder paint. Passed through an oven for curing at 220°.
Made in EU.
Another sports equipment from category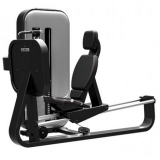 Leg press
Article:AVSA1017
Material: 3 mm reinforced steel
Dimensions: 210x104x157 cm
Color: Black, grey
Workload: 200 kg
Purpose: training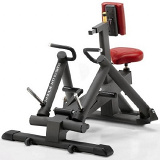 Discs. Seated row
Article: AVTJ3065
Length: 1430 mm.
Wide. 950 mm.
Height: 1020 mm.
Main Racks: 120x120x3 mm rectangular tube. 120x60x3 mm. 120x50x2 mm and OVAL.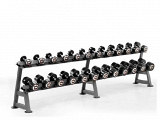 2 tiers dumbbell rack
Article: AVTJ3056
Length: 2050 mm.
Width: 783 mm.
Alto. 636 mm.
Weight: 30 kg
Main frame: Steel tube of 120x50x2 mm OVAL 100x50x2 mm.