Multistation VII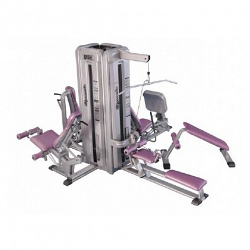 Article: AVTJ3003
Main Frame: Oval steel tube of 120x50x2 mm. and 100x50x2 mm.
Pictogram instructions included. Label - Warning signs and safety.
- Cables: Steel, in a 7x19 +1 configuration with 3 mm. in diameter and coated polyamide to 4 mm. with a breaking strength of 560 K. (Test performed over 50,000 cycles with maximum loads of weight with no spoilage).
- Pulleys: Made of polypropylene with double sealed bearings and grinding pressure to ensure a long life of the cables, smooth movement and maximum durability.
- Fairing: With ABS housings where the weights are placed to improve appearance and increase security.
- Plate weights: Of cast iron, lead polyamide plain smoother operation and avoid noise in the performance of exercise.
- Bars Guides: Solid steel, cold rolled, fixed with silentblock to isolate the vibrations could be transmitted to the main racks.
- Seat and back: Made with high density foam (150) and with a thickness of 4 cm., Upholstered with high quality leatherette fireproof. The backs of the machines are anatomical.
- Help or extractor levers: Vertical Press On the machine, he has incorporated a lever to help the beginning and end of the exercises, with buffer to prevent it from hitting the legs of the users in case of an erroneous exercise performance . In the Press Horizontal machine has been incorporated into a hydraulic system for the start of exercise can be performed effortlessly and safely.
- Supports and platforms where you place your feet are covered with sheet aluminum "diamond" of 1.5 / 2 mm. thick.
- The grips are made of neoprene, hypoallergenic and non-slip.
- Painting: first metal parts are passed through a tunnel of degreasing and phosphating order to go on electrostatic paint booth. Painted with polyester powder coating and baked at 220 °
Another sports equipment from category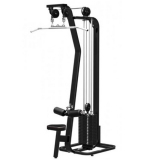 High pulley
Article:AVSA1034
Material: 3 mm reinforced steel
Dimensions: 127x69x237 cm
Color: Black, grey
Workload: 100 kg
Purpose: training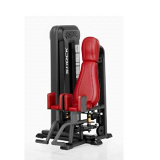 Adductor -Abductor
Article: AVTJ3032
Length: 1530 mm.
Wide. 1580 mm.
Height: 1505 mm.
Weight: 162 Kg
Main frame: Steel tube of 120x50x2mm OVAL. and 100x50x2 mm.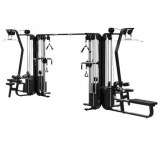 9 stations multi-pulley
Article:AVSA1029
Material: 3 mm reinforced steel
Dimensions: 790 x 230 x 237 cm
Color: Black, grey
Workload:
— High and low pulleys: 100 kg in 5 kg plates.
— Triceps pulley: 75 kg in 5 kg plates.
— Adjustable pulleys: 50 kg in 2,5 kg plates.
Purpose: training