Volleyball system. FIVB certificate.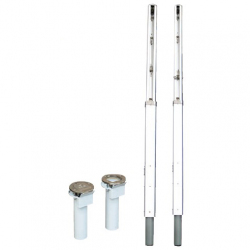 Article:

AVSS1334

Ground socket installation type.

Posts made of aluminium. Telescopic solution for the height regulation of the net and outside device for tensioning the net applied to one of the 2 posts. Including ground sockets and adjustable lids made of galvanized steel. FIVB approved for international competitions. Made in EU.
Another sports equipment from category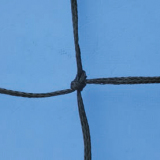 Competition volleyball net
Article:AVSS1479
Made of polyethylene diameter 3.5 mm knotted, complete of pvc ribbons 70 mm on top and 50 mm on bottom, antennas' sleeves and antennas. Made in EU.
Portable desk manual scoreboard for volleyball
Article:AVSS1497
Portable desk manual scoreboard for volleyball indicating points and set for both the 2 teams. Made in EU.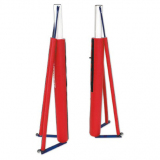 Protective pads for volleyball systems
Article:AVSS1329
For volleyball systems AVSS1328. Made of soft foam covered by coloured washable synthetic material. Easy to be applied and removed by means of velcro strips. Made in EU.