Soccer goals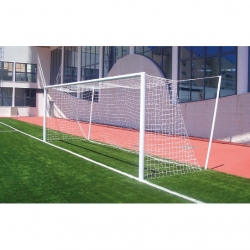 Article: AVSS1242
Internal dimensions 732×244 cm. Split crossbar.
Official size soccer goals in accordance to EN 748. Made of stable reinforced aluminium profiles, oval section 120×100 mm. Reinforced corner joints. Supplied with aluminium ground sockets with lids, varnished steel suspension posts for tensioning the net and safety net holders with twin hooks made of wear-resisting plastic. Model with split crossbar to be assembled with inner connecting bar. Internal dimensions 732×244 cm. Made in EU.
Another sports equipment from category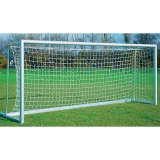 Soccer goals for Juniors, Transportable, with welded mitres, 5x2 m
Article:soccer—goals—for—juniors—transportable—with—welded—mitres—5x2—m
Made in: EU
Model: 119
Category: Equipment for football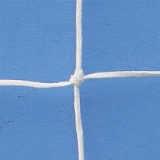 Nets for reduced soccer goals
Article:AVSS1274
For reduced soccer goals 400×200 cm made of polyethylene diameter 3.5 mm knotted, depth 100/160 cm, square mesh 14×14 cm. Made in EU.
Soccer goals for Juniors and small pitch goals; For insertion into ground sockets, with aluminium cast corner joints, 5x2m and 3x2m
Article:soccer—goals—for—juniors—and—small—pitch—goals—for—insertion—into—ground—sockets—with—aluminium—cast—corner—joints—5x2m—and—3x2m
Made in: EU
Model:
Category: Equipment for football