Basketball backstop with sockets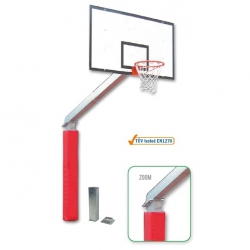 Article: AVSS1181
Total projection of 225 cm, backboards with dimensions 180×105 cm, fixed, made of 2 separate elements.
Galvanized steel structure with section 150x150x3 mm and total projection 225 cm, made of 2 separate elements with fixing plate and fixing accessories. With ground socket to be buried and lid. Equipped with hpl basketball backboard with dimensions 180×105 cm and thickness 10 mm mounted onto galvanized steel frame with stabilizing bar connected to the main projection arm, fixed varnished steel ring and nylon net. Made in EU.
Another sports equipment from category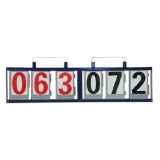 Manual wall mounted scoreboard
Article:AVSS1499
With 6 digits (3+3). Varnished tubular steel structure to be fixed to the wall. Complete with 6 numbered digit panels highly visible, to be manually changed (3 black— 3 red). Made in EU.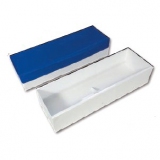 Extra ballast container
Article:AVSS1211
Made of varnished steel with PVC cover, to be applied on back side of any portable basketball backstops. Made in EU.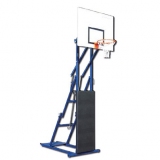 Foldable and portable basket and mini-basket unit
Article:AVSS1443
Entirely in varnished steel, platform supporting ballast, hpl backboard, fixed ring with net, front protection pad. Made in EU.