Basketball backstop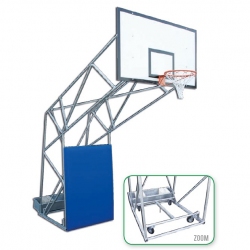 Article:

AVSS1178

Total projection of 225 cm, backboards with dimensions 180×105 cm, mobile.

Mobile. Varnished steel reinforced structure made of 40 mm diameter profiles with total projection of 225 cm. Varnished steel ballast containers to be fixed to structure's base. Equipped with chipboard basketball backboard with dimensions 180×105 cm and thickness 18 mm mounted onto varnished steel frame with, fixed varnished steel ring and nylon net. Including raising and transport lever device made of varnished steel with nr 4 rubber wheels having diameter 150 mm (2 fixed and 2 pivoting). Made in EU.
Another sports equipment from category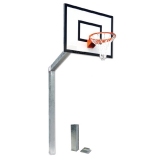 Mini-basketball backstop
Article:AVSS1219
Galvanized steel structure projection 165 cm made of unique element, hpl backboard on steel frame, ring and net. Made in EU.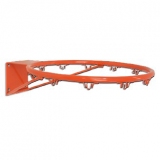 Basketball ring
Article:AVSS1462
Standard varnished steel basketball ring, fixed heavy model. Made in EU.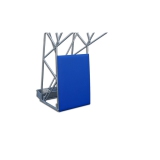 Protective pad for basketball backstop
Article:AVSS1179
Dimensions: 130x180 cm. Including fasten. For: AVSS1177 and AVSS1178 models.