Swedish wall bar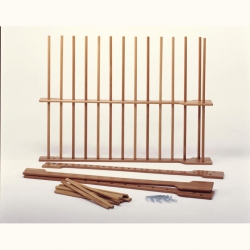 Article: AVSS1124
Dimension: 90x250 cm, assembled. 1 span.
Naturally varnished beech wood. Beech wood ladder steps, protruding top ladder step and other re-entering one for suspension exercises. Dismantled model to build up using screws of 6 mm. Complete with galvanized steel mounting hinges. Made in EU.
Another sports equipment from category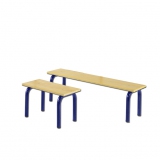 Bench for wall bar
Article:AVSS1108
Bench suitable for wall bar, structure frame made of varnished tubular steel, diameter 40 mm, wooden seating bench, thickness 20 mm, rubber covered floor pads, length 60 cm. Made in EU.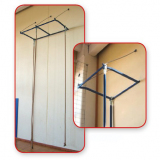 Frame for wall climbing equipments
Article:AVSS1592
Varnished steel frame for supporting and sliding to the wall, once not in use, wall climbing equipments (climbing ropes, poles and ladders). Inclined in order to block equipment to the wall once not in use. Supporting nr 2 climbing accessories. Made in EU.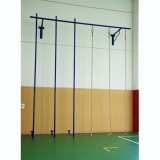 Climbing apparatus
Article:AVSS1091
Climbing apparatus, to be fixed to the wall. Varnished steel racks and beam diameter 60 mm, composed of: n° 3 "douglas" wooden poles, diameter 50 mm; n° 3 hemp ropes diameter 30 mm, height 5 mt. Made in EU.