Springboard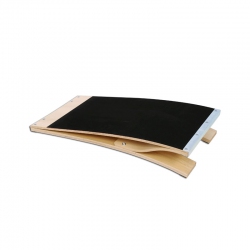 Article:

AVSS1023

Dimensions: 120x60x16 cm.

Dimensions: 120x60x16 cm. Made of layered beech wood naturally varnished. Springing area covered in anti slipping rubber, thickness 1 mm. Rubber floor pads. Made in EU.
Another sports equipment from category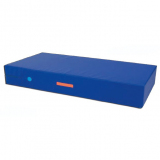 Landing mat
Article:AVSS1046
Filler made of foam, covered with pvc. Dimensions 200x100x50 cm, anti slipping base, density 16 kg/mc. Equipped with handles, zip and breather holes. Made in EU.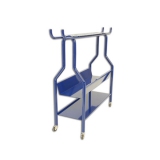 Equipment trolley
Article:AVSS1501
Made in tubular varnished steel with 3 shelves. Complete with 4 rubber wheels. Capacity: 40 clubs, 100 poles, 60 supports, 25 hoops, 25 small ropes. Made in EU.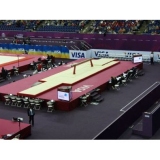 Set of landing mats for competition beam (with top mat) - FIG approved
Article:AVGY1112
Material: Removeable PVC cover, Foam
Color: beige/red
Dimensions:
2 mats (dim.: 100 x 200 x 20 cm)
2 mats (dim.: 100 x 200 x 20 cm)
2 mats (dim.: 200 x 200 x 20 cm)
6 mats (dim.: 200 x 200 x 20 cm)
1 mat (dim.: 300 x 200 x 20 cm)
2 mats (dim.: 200 x 150 x 20 cm)
1 finish joining PVC bib with hook—and—loop system (dim.: 21 x 21 cm)
1 top mat (dim.: 400 x 200 x 10 cm)
Total area : 52 m².
Compliance with: FIG