Springboard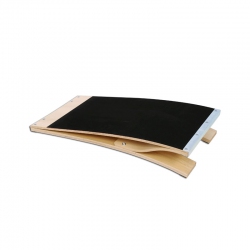 Article:

AVSS1023

Dimensions: 120x60x16 cm.

Dimensions: 120x60x16 cm. Made of layered beech wood naturally varnished. Springing area covered in anti slipping rubber, thickness 1 mm. Rubber floor pads. Made in EU.
Another sports equipment from category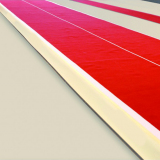 Acrobatic track acroflex without adjustable elasticity - 6x2 m
Article:AVGY1215
Material: PVC cover, JERSEY cover, Foam
Dimensions:
Length: 6 m.
Width: 2 m.
Overall thickness: 23 cm.
Color: beige/red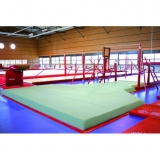 Suspended sunken landing pit
Article:AVGY1184
Color: gray
Dimensions:
Minimum depth: 1.20 m.
This kind of pit has the following advantages:
— The design of this pit model enables it to be exited easily and without effort after use.
— Landing area visible: the top of the pit is raised 20 cm above the ground (FIG mats height).
— Pit edges are completely guarded, providing improved safety for gymnasts.
— Hygienic, reduced fire risk and easy to maintain.
— Provides phased shock absorption.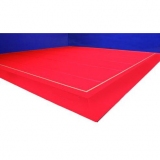 Exercise floor "roll-up tracks"
Article:AVGY1007
Material: Comprises sprungfloor thick roll—up foam/'flame pattern' carpet sections
Color: red
Dimensions: 14 x 14 m, Thickness : 14 cm (10 cm floor + 4 cm track).
Made in: EU.