Mobile sports floor M1 - IHF certified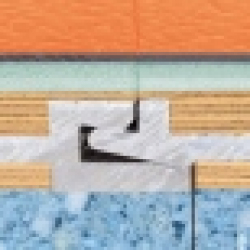 Article:

AVSL1002

Made in: EU

Compliance with: IHF certified

Technical description:

Top layer: approx. 7 mm PVC sports covering.

Available Colors: according with current pattern range.

Middle layer: 18 mm special plywood in accordance with EN 13986 - EN 636-2S.

Interlocking: Patented ® aluminium interlocking system.

Bottom layer: 18 mm laminate composite foam.

Total thickness: approx. 43 mm.

Module size: 2470 x 613 mm (1.51 m² per module).

Weight: approx. 30 kg per module / approx. 20 kg per m².

The combi-elastic Sportsfloor M1 provides a multitude of possibilities for creating mobile sports floors. A wide range of colours can be selected from a large number of collections.

A point-elastic top covering is permanently fixed to the module and glued to an area-elastic subfloor. There is not longer any need to spend hours laying out and taping down rolled good materials, making installation an easy process.
Take advantage of tried-and-tested M1 systems that enhance the athlete's safety, offering many years of use and easy fitting at the same time.
Moreover, the system is approved by the International Handball Federation IHF and fulfills all requirements regarding international events and competitions.
Another sports equipment from category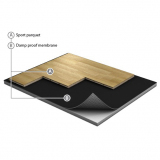 Sport parquet series 2100
Article:AVGR1014
Made in: EU
Material: Parquet, 5G click system, board HDF, boarder shock—absorbing underlay.
Dimensions: Thickness: 28 mm
Weight: 10,3 kg/m2
Colour: Ash nature, oak dark, oak nature.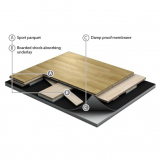 Sport parquet series 2010 - FIBA/IHF
Article:AVGR1012
Made in: EU
Material: Parquet, boarder shock—absorbing underlay, damp proof membrance.
Dimensions: Thickness: 43 mm
Weight: 14 kg/m2
Colour: Ash nature, ash rustic, oak dark, oak nature.
Compliance with: FIBA, IHF.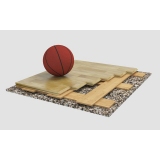 Sport floor series 1006 - FIBA certified
Article:AVSE1006
Material: Solid wood Hevea
Dimensions: Thickness parquet element: 22 mm
Total thickness 49 mm.
Purpose: Competition, Training activitites
Compliance with: FIBA certified
Ideal for large sports hall, recommended for professional basketball.